CICRA's Boshan cyber security panellist at Pacific Senior Communicators Meeting

Cyber security discussion panellists at the Pacific Senior Communicators Meeting recently in Philippines (from left): Pemela Warren (Director, Palo Alto Networks, USA), Boshan Dayaratne (Director/CEO, CICRA Holdings, Sri Lanka), Derek Watkins (Federal Sales Engineer, US Department of Defence, Intel Security), Travis Rosiek (Chief Solutions Strategist, Fire Eye, USA), Gregory Fresnais (Co-founder, Cyber Test Systems, France) and Graig Meyers (US Pacific Command)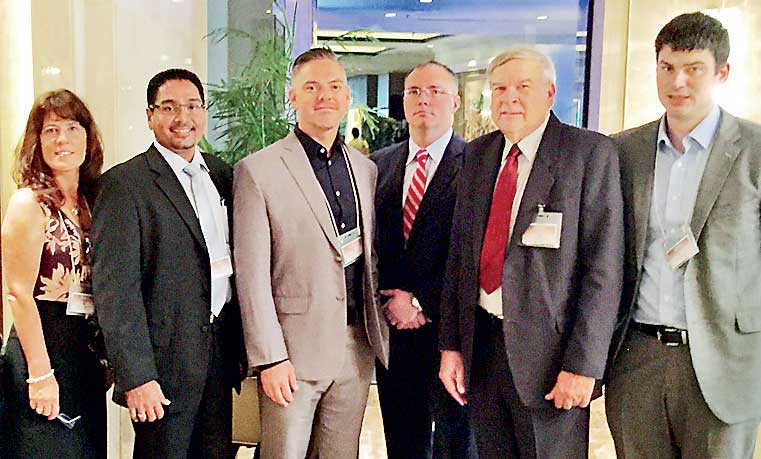 Following an invitation from the United States Pacific Command (USPACOM); CICRA Consultancies Ltd. Director/CEO Boshan Dayaratne spoke as a panellist at the five-day 'Pacific Senior Communicators Meeting' (PSCM) held recently in Manila, Philippines.
PCSM is an annual gathering of the senior military communication professionals from each of the Pacific Endeavour participant nations. It is held in conjunction with Pacific Endeavour 2015 workshop that was represented by nearly 150 top military officers from nearly 28 countries.
Along with Dayaratne, the cyber security discussion panel consisted of Pemela Warren (Director, Palo Alto Networks, USA), Derek Watkins (Federal Sales Engineer, US Department of Defence, Intel Security), Travis Rosiek (Chief Solutions Strategist, Fire Eye, USA), Gregory Fresnais (Co-founder, Cyber Test Systems, France) and Graig Meyers (US Pacific Command).
The panel focused on how bilateral partnerships can be built to promote cyber security and what steps can organisations take to build partnerships with international humanitarian communities, academia, government agencies and non-government agencies, etc. to improve their cyber security posture. The panel also discussed on future advancements in technology and cyber threats on high availability disaster recovery activities.
This was the second year that Dayaratne spoke as a panellist at the PSCM.
The event is part of the Multinational Communications Interoperability Program (MCIP) of the USPACOM. This program is designed to operationalise the goals of the MCIP and satisfy the intent of the USPACOM Theatre Security Cooperation Program.
The vision of MCIP is Communications Interoperability that supports Multinational Humanitarian Assistance/DisasterRelief (HA/DR) preparedness.
MCIP has already enforced an All Partners Access Network (APAN), Multinational Communication Interoperability Guide (MCIG), Mercury Spectrum Collaboration Application, and Multinational Forces Standard Operating Procedures (MNF SOPs).
CICRA is Sri Lanka's pioneering cybersecurity training and consultancy organisation.