Ethical Hackers Forum today to discuss 'Enterprise Mobile Security'
---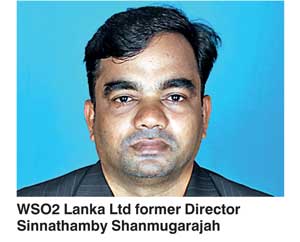 "Enterprise Mobile Security: Challenges and Strategies" is the discussion topic of the sixth session of the Ethical Hackers Forum of Sri Lanka that will be held today at 6.00 am at the Auditorium of CICRA Holdings, Eighth Floor, Unity Plaza, Colombo 04.
Keynote speaker of the forum is Mobile Architecture of WSO2 Lanka Ltd former Director Sinnathamby Shanmugarajah (Shan).
Shan has over 17 years of experience in the Software Industry. He has played a key role in engineering products, serving more than 10 years in Mobile Computing which has won many local and international awards. Other areas of interest of his are Font Technology, Mobile Security and IoT. He serves as an External Advisor to the ICT Agency of Sri Lanka addressing local language issues in various platforms (Sinhala and Tamil languages on Windows, Mac, Android, iOS) since 2006. Shan has been a Juror of the mBillionth Award Grand Jury at the South Asian Mobile Conference in 2010/2011.
The objectives of the Ethical Hackers Forum are to bring cyber security professionals from different industries and sectors together onto one common platform and to provide them with an interactive space for knowledge sharing. The forum also facilitates increased awareness on cyber security issues locally and globally,  takes informed decisions to prevent such challenges and creates a hassle-free networking and socialising arena for cyber security professionals.
The forum sessions are held in interactive seminar-styled up to two hour sessions which will be followed by a networking and socialising fellowship. Each forum will have at least one guest speaker; members of the forum will also be given the opportunity to share their experience.
Forum membership is opened for any certified ethical hacker and cyber security/ IT professionals who do not possess ethical hacker certification would be considered as Associate Members.
Ethical hackers participating at Ethical Hackers Forum events will be awarded EC-Council Continuing Education Credits.
The forum is facilitated by CICRA Holdings and is supported by a team from the Ethical Hackers Forum membership.