Harin optimistic about Sri Lanka's digital initiatives, says 2017 will be crucial
Chief guest Telecommunications and Digital Infrastructure Minister Harin Fernando addresses the Summit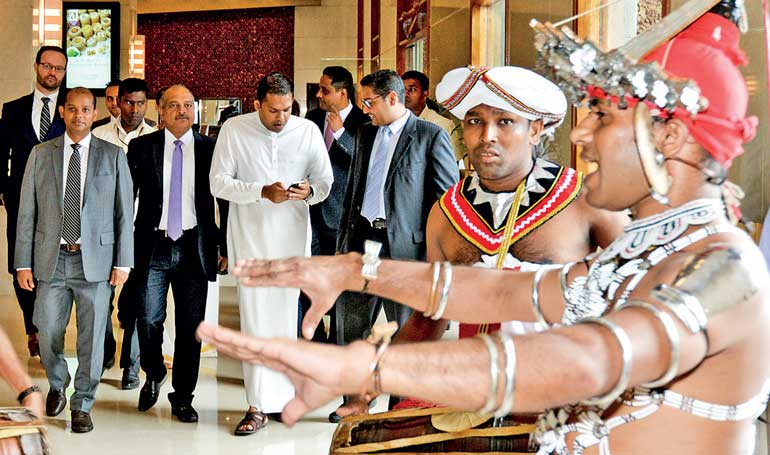 Telecommunications and Digital Infrastructure Minister Harin Fernando checks his mobile as he is led to the ceremonial opening of the Daily FT-CICRA Cyber Security Summit. CICRA Holdings CEO Boshan Dayaratne, Daily FT Editor Nisthar Cassim, Summit's strategic partner Cisco Lead for Sri Lanka and Maldives Gerald Vethanayagam, Summit's strategic partner Microsoft Sri Lanka Country Manager Brian Kealy and CICRA Holdings Director Vasana Wickramasena are also present
Speaking at the 4th Cyber Security Summit last Tuesday, Telecommunications and Digital Infrastructure Minister Harin Fernando said that country's digital transformation and its related activities were right on track.
Addressing the gathering, Fernando said the Government had recognised the challenges and the goals Sri Lanka needed to achieve in order to compete in the global market.
"Sri Lanka is a country that has achieved a lot within the telecommunications sphere over the last few decades. The ICT sector is the fifth largest revenue earner for Sri Lanka. Sri Lanka was the first South Asian country to liberalise the telecom sector and introduce competition. We have five mobile operators, 16 ISPs (Internet Service Providers) and multiple international gateways," he noted.
"Sri Lanka's mobile penetration was over 110.4% as at 2015, meaning we have more mobile phones than toothbrushes. Sri Lanka is ranked number one in South Asia in the Network Readiness Index (NRI) and the UN e-Government Readiness Index in 2014. The country's technology sector has developed immensely over the last two to three years.
The question is, are we ready for the next industrial revolution? Is the country ready to face the data explosion about to take place? Does the Government have the capability to adopt such fast-moving demands? Is the cyber security for the nation secure and ready? Do we have enough skill sets available in Sri Lanka? Is the education sector ready? Are our universities ready to produce the skilled labour required without deteriorating quality?" said Fernando.
He stressed that Sri Lanka, as a country which still sits at an early stage of digital infrastructure, has a lot more to achieve and emphasised on the need for having in place the necessary policies, plans and action. He also mentioned that the biggest information system tender for the National Digital Identity (NDI) was closed on Monday. The tender is expected to be budgeted at over $ 100 million.
"The NDI will ensure that every citizen will have an NFC (Near Field Communication) card with a cryptographic private key embedded in it. This card will enable every citizen to do secure transactions. Every citizen from birth will have a digital wallet and this would mean that every citizen will be able to transact online. Digital documents can be digitally signed and dispatched digitally to Government institutions, reducing inefficiency and cost," Fernando said.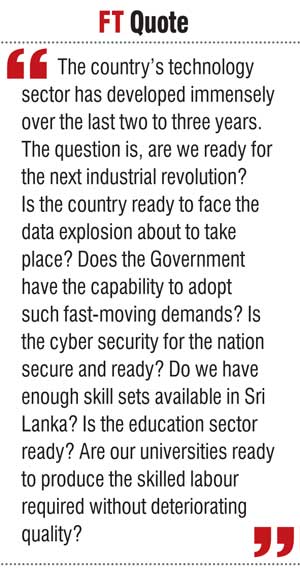 He also spoke about the implementation of the Sri Lanka Government Cloud which is currently under the CAPC (Cabinet Appointed Procurement Committee) review process, Lanka Government Network (LGN) which will link 960 locations at a speed of 100 Mbps, the National Payment Platform and the development of National Security Operations Centre (SOC) for cyber security that is worth more than Rs. 1 billion. All these initiatives are being done in partnership with ICTA Sri Lanka.
"Some parties say that we are too ambitious and we are trying to build a highway (LGN) without vehicles. But ICTA and I believe in this. We need to build the highway and the right time has come to finish it. The future is out there and if we postpone this now, we will be obsolete as a country."
The National Payment Platform that facilitates payments for every citizen who has a bank account is currently being implemented. ICTA is working very closely with the Central Bank of Sri Lanka on implementing this project. The Minister also said that ICTA is currently working on more than 340 procurements.
"While we build all these, it is important to ensure that we protect our digital infrastructure against any cyber security threat. It is important for our citizens to be safe and feel safe. If citizens feel unsafe, they will resist using digital services. This is why ICTA is ensuring that all Government citizen services are being implemented with higher security standards. We have a super team and with the industry supporting us, the journey towards becoming a digital hub in Asia looks very solid. Using this concept, we could create KPOs (Knowledge Process Outsourcing) for cyber security experts. That is a nice market and that is something we could really work on," Fernando said further.
The Government is also looking at introducing software coding to local schools and empowering every student from Grade 9 onwards with a tablet computer, he added.
"From next year, we are trying to introduce coding to every school, starting from Grade 9. We have put up a tender for 100 schools to be digitally-equipped, implementing digital classrooms. For those 100 schools, we are looking at introducing tabs for every student from Grade 9 onwards. We will launch a pilot project soon for these 100 schools, that would be around 1.2 million students. If this works, we will have the perfect education system in Sri Lanka," opined Fernando.
Fernando mentioned that connectivity would be a key element in order to connect with the world and he believes that the Google Loon project will help Sri Lankans to achieve greater connectivity speeds.
"Using Google Loon, we are hoping to provide a 4G LTE network to the whole country. We will make sure that the country's fibre optics network is well laid as well," said Fernando.