Microsoft renews strategic partnership with Cyber Security Summit 2015
Microsoft Corporation, the worldwide leader in software, services and solutions, helping people and businesses realise their full potential, has joined the 'Cyber Security Summit 2015' as a Strategic Partner for the second consecutive year.
The summit, which is held for the third consecutive year on 29 September in Colombo, will comprise of a Cyber Security Summit for IT professionals targeting senior officials from the corporate and government sectors, and a 'Night Hack' – an innovative and informative evening, showcasing the immediate and potential threats and dangers posed by cyber criminals today. There will also be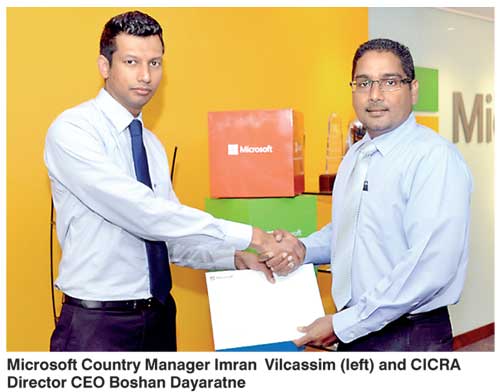 a separate evening meeting for CEOs of the top corporations on cyber security.
The summit will feature high profiled international IT security experts, amongst who are those working with Fortune 500 companies and global enforcement agencies such as Interpol, FBI etc.
The event is co-organized by CICRA Consultancies Ltd. – Sri Lanka's pioneering cyber security training and consultancy provider – and the Daily FT.
"As organizations and individuals increase their level of digital interaction through multiple devices, the looming threat to cyber security is unprecedented. The Microsoft Digital Crimes Unit is an international legal and technical team working with partners, to help create a safe digital world. Whether working on issues such as malicious software crimes, IP crimes, or technology-facilitated child exploitation, the team applies legal and technical expertise to help enhance cloud security and make the digital world safe for everyone," said Microsoft Sri Lanka Ltd Country Manager Imran Vilcassim.
"The Digital Crimes Unit (DCU) protects consumers and businesses from a full range of cybercrime activities, including botnets and malware; the connection between piracy and malware, with a focus on the increased risk of malware infection when people use unlicensed and counterfeit software or purchase products from unsecure supply chains. Microsoft, in partnership with the National University of Singapore, released 'Computer Security Study 2014' with a focus on South-East Asia, which established that two out of three new and branded computers installed with pirated software at the point of sale were infected with dangerous malware, which were designed to cause serious vulnerabilities. The study highlighted the value of 'Clean IT' (genuine and legal software) for enhanced cyber security and internet safety of consumers and businesses," Vilcassim said.
Vilcassim was speaking at the ceremony to announce Microsoft's partnership with the summit. Speaking at the ceremony, CICRA Director/CEO Boshan Dayaratne said that previous Cyber Security Summit in 2013 and 2014 were a tremendous success and he expected this year's summit to create more awareness amongst corporates on cyber security risks and how to mitigate those perils.
"As cyber security threats skyrocket and not even a day passes by without a cyber-security breach on a corporate or a government entity on its IT infrastructure, we are pleased to see that Microsoft, the worldwide leader in computer operating systems and office software has joined hands with our initiative in Sri Lanka."
The main objective of the summit is to create awareness on the importance of cyber security and to provide top officers in the government, private sector leaders and IT professionals, with the best practices in acquiring, implementing, managing and measuring information security postures of their organizations and countermeasures.
The summit will also highlight latest flaws in information security that affects the global community, including the corporations and the governments. Discussions and presentations will revolve around some of the most malicious attacks and potential threats surrounding the security field.