MillenniumIT announces strategic partnership for Code Uncode competition
Supports CICRA-Daily FT ground breaking initiative of first-ever nationwide search for best secure software engineer
MillenniumIT, leading financial software and technology solutions provider and member of London Stock Exchange Group (LSEG) has joined the 'Code Uncode Sri Lanka' competition as the strategic partner to support the first ever nationwide hunt for the best secure software engineer.
The competition is organised by CICRA Consultancies Ltd;   Sri Lanka's pioneering cyber security training and consultancy provider together with the International Council of Electronic Commerce Consultants (EC-Council), USA – the world's leading provider of certifications and training in the information security domain, and the Daily FT, Sri Lanka's only business and financial newspaper.
The ground breaking initiative aims at recognising and nurturing Sri Lanka's overall quest to increase excellence in software engineering and encourage skilled youth in the industry to put security as a top priority in their coding.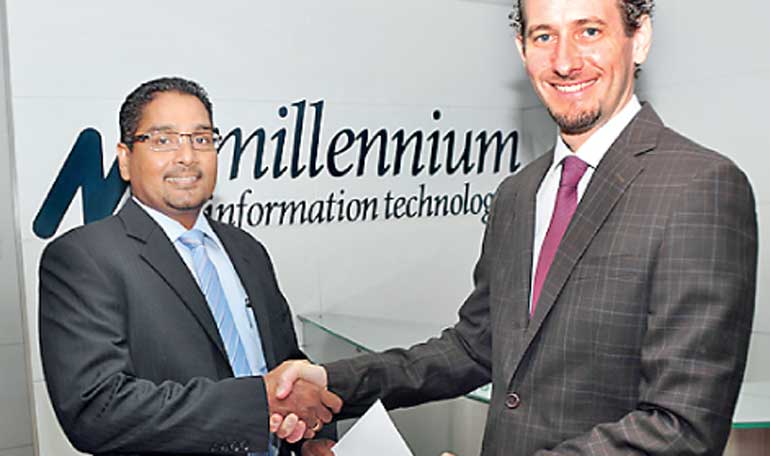 MillenniumIT CEO Mack Gill with CICRA Holdings CEO and Director Boshan Dayaratne exchanging the partnership for Code Uncode competition
MillenniumIT CEO Mack Gill said: "We are delighted to play an active role in advancing the field of software engineering in Sri Lanka. MillenniumIT has a long and proud history of fostering some of the greatest minds in the field. We believe that Sri Lanka is home to some of the best and brightest engineers, and it is our duty to support and encourage them."
CICRA Holdings Director/CEO BoshanDayaratne said that they are privileged to sign up with a world renowned local company such as MillenniumIT in this hunt for Sri Lanka's best secure programmer. "CODE UNCODE is a nationwide competition for students, professionals, colleges, and corporates. The event will bring together existing and aspiring security enthusiasts from all fields of the Infosec world ranging from corporate and government bodies to academic institutions," Dayaratne said.
"This competition aims to develop the secure coding skills of Sri Lankan software engineers and quality controllers. Students following a degree in software development are also encouraged to apply," he added.
This competition is aimed at supporting Sri Lankan Government's mission to earn $ 5 billion foreign exchange from export of software developed in Sri Lanka by 2020.
Today, foreign clients of our software developing companies are well aware of cyber security threats and most of them now demand that software developers guarantee that developed code is secure and impervious to cyber-attacks; they also demand that the developed source code cannot be re-engineered. Even local clients who commission local companies to develop software now demand code review of the developed software, before they approve the final payments for the product.