SLT official telecom partner of Cyber Security Summit 2015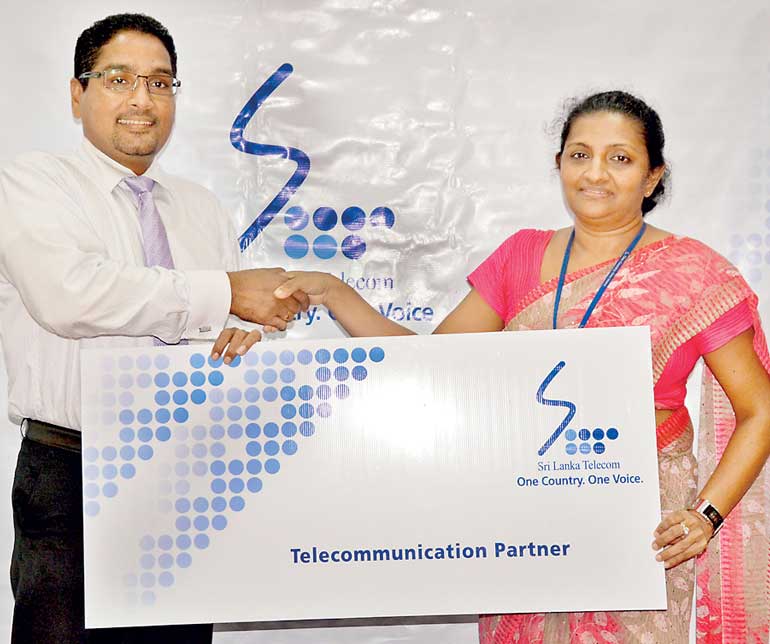 CICRA Holdings Director/CEO Boshan Dayaratne (left) and Sri Lanka SLT Plc General Manager – Information Security, Sanjika Wijesundera exchanging the sponsorship document for the Cyber Security Summit 2015
– Pic by Upul abayasekara 
Sri Lanka Telecom Plc – Sri Lanka's leading telecommunication provider – yesterday announced that it would support the EC-Council Cyber Security Summit 2015 as the official telecom partner.
The summit on 29 September in Colombo will comprise a Cyber Security Summit for IT professions targeting senior officials from the corporate and government sectors, and a 'Night Hack' –an informative evening. A Leadership Forum with CEOs of top corporations will follow on 30 September. The summit will feature high-profile international IT security experts including those who have worked with Interpol and Fortune 500 companies.
Entitled 'EC-Council Cyber Security Summit 2015', the event is co-organised by CICRA Consultancies Ltd., Sri Lanka's pioneering cyber security training and consultancy provider, and the Daily FT.
"ICTs are the driving force behind the evolution of modern societies. They underpin the social, economic and political growth of individuals, organisations and governments alike. ICTs have become not only ubiquitous but essential for progress. Smart devices, Machine to Machine communications, and cloud-based services, among many other technologies, are advancing the next generation of networked societies. Digital technology and internet connectivity are being systematically integrated into all verticals of the private and public sectors because they offer significant advantages of productivity, speed, cost reduction and flexibility. As a result, ICTs are progressively being deployed in secured platforms.
"Thus, today, where digital lifestyles are the norm and online distribution channels have increased in popularity, cyber security has become a matter that requires the highest priority. Cyber-attacks can cripple a business since most processes are automated and offered online. Furthermore, it can also result in customers losing confidence in a business organisation. As the leading ICT Solutions Provider in the country that is responsible for the business critical information of many leading organisations, we are aware of the importance of cyber security to our organisation and to others as well. Thus, SLT is happy to provide our support towards the EC Council Cyber Security Summit 2015 as the Official Telecom Partner," SLT Information Security General Manager Sanjika Wijesundera said.
Wijesundera was speaking at the ceremony to announce SLT's partnership with the summit.
Sri Lanka Telecom Plc (SLT), as the nation's number one integrated ICT solutions provider, offers customers a range of frontend iDC services including application hosting, IT co-location hosting, cloud computing services guaranteeing the highest security and reliability for customers.
SLT's state-of-the-art data centre offerings empowers organisations to focus on strategic directives of their core business by minimising daily fire-fights and helping to broaden their business horizons. The company's fully-fledged data centre offerings manage mission critical infrastructure and applications through its rich portfolio.
The company helps to strengthen the stability of business organisations while ensuring reliability, security and scalability, backed by professional support. For this purpose, SLT has a dedicated data recovery site located outside of its main data centre and also provides iDC frontend services such as Distributed Denial of Service (DDoS) mitigation, etc.
Furthermore, the company's networking services such as IP VPN, Metro Ethernet, etc. follow industry standards to ensure maximum security for its customers' business critical data.
The SLT Group has been in the industry for more than 150 years and it has completed Rs. 221 billion worth of investments from 1997-2014 after privatisation for the development of the national ICT infrastructure. This amounts to almost 19% of Total Foreign Direct Investments (FDIs) to Sri Lanka during the past 10 years and has also made a total economic contribution of more than Rs. 415 billion. The company has also received the globally recognised Information Security Management standard, ISO/IEC 27001:2005 awarded by the world renowned certification body, Bureau Veritas, becoming the first company incorporated in Sri Lanka to achieve this security standard as well as to be listed in the prestigious Information Security Management System (ISMS) Registry since 2006.
Speaking at the ceremony, CICRA Director/CEO Boshan Dayaratne said that Cyber Security Summits in 2013 and 2014 were a tremendous success and he expected this year's summit to create more awareness amongst the corporates on cyber security risks and how to mitigate those perils.
"As cyber security threats skyrocket and not even a day passes by without a cyber security breach on the IT infrastructure of a corporate or government entity, we are pleased to see that SLT has joined hands with EC-Council Cyber Security Summit 2015 in Sri Lanka," Dayaratne said.
The main objective of thesummit is to create awareness on the importance of cyber security and to provide top officers in the Government, top private sector leaders, IT professionals with the best practices in acquiring, implementing, managing and measuring information security postures of their organisations and countermeasures.
The summit will also highlight the latest flaws in information security that affect the global community including corporations and the governments. Discussions and presentations will revolve around some of the most malicious attacks and potential threats surrounding the security field.
EC-Council stands for International Council of Electronic Commerce Consultants.
"EC-Council is the world's largest vendor neutral cyber security education provider based in USA. It is the owner and developer of the world famous Certified Ethical Hacker course (C|EH), Computer Hacking Forensics Investigator program (C|HFI), License Penetration Tester (L|PT) program and various other programs offered worldwide," Dayaratne said.